Since 2003 we have won three Phase I SBIR awards and have successfully transitioned two to Phase II awards.
Army Topic: A02-117 Thermal Management System for Cooling and Heating of Transit Case
Awarded Phase I and Phase II

Summary: In the past, extreme temperatures have caused equipment to fail during mission-critical operations. With today's battlefields taking place in extreme climatic conditions such as the sands of the Middle East or the fuselage of an aircraft at 10,000 feet, the need to maintain constant working temperatures during operations becomes a necessity. We have developed a Transit Case Thermal Management System (TCTMS) designed to fit standard transit cases with or without shock-mounted chassis capable of supporting COTS equipment ranging from 3U to 15U high.
Navy Topic: N093-187, Innovative manufacturing processes and materials for affordable Transmit/Receive (T/R) Module Production
Awarded Phase I and was selected to submit proposal for phase II (1 of 2 companies)

Summary: Cobra Design & Engineering, Inc. has created a solution that minimizes touch labor, improves materials and upgrades existing electrical components in T/R modules, with an emphasis on reduced semiconductor devices, substrates and assembly costs. Our goal was to reduce module cost by 20% while maintaining electrical performance, environmental, EMI, temperature and moisture ingress/absorption.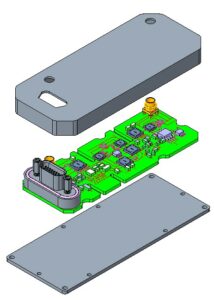 Navy Topic: N07-191, A Lightweight, UHF SATCOM Diplexer for Use in Expendable Buoy Systems
Awarded Phase I and Phase II.

Summary: Cobra Design & Engineering, Inc. has developed a full-duplex Diplexer/Triplexer supporting legacy UHF SATCOM plus existing Mobile User Object System (MUOS) frequency bands. The unique design approach utilizes high-Quality Factor (High-Q) resonators fabricated from silver-plated thin-wall aluminum tubing in place of the traditional machined solid aluminum block. The resulting structure is extremely strong and lightweight. The Diplexer will support MUOS existing and growth capability, but eliminates legacy UHF SATCOM capability. The mechanical designs of the Triplexer and MUOS Diplexer are extremely small and lightweight as compared to competing offerings, but most importantly the designs are easily adaptable to fit the users' specific applications. This means our design geometry can be quickly adapted into various shapes: circular segments, rings, ellipses, and rectangles.